---
This Malaysian Shares His Experience As A Grab Driver
Posted: 12 Jun 2017 08:10 AM PDT
Attillah is a former welding inspector in the oil and gas industry, and has been a Grab driver for a few years.
"I was actually a welding inspector in oil and gas before I became a Grab driver. My previous job involves working in oil rigs around the world, and I'll be away from home for weeks. Nevertheless it provided me with a good income, but opportunities dried up," Attillah said.
With not many welding jobs available, Attillah was desperately looking for other ways to support his family.
"I have a family to feed so I started looking for other work. Then I found out about Grab on the internet. The monthly earnings I could get from Grab was comparable to what I got earlier. I had to complete the mandatory online training and once Grab completed my background check, I started driving as a Grab Driver," Attillah explained.
He even sold his computer so he could use the money as down payment for a better car.
He also used his Grab earnings to start a baking business with his wife.
"My wife loves to bake, and I had some money from driving for Grab that I can spare, so we started a baking business together. She bakes and I do the deliveries. It's a great arrangement especially since my working hours are flexible," he said.
Attillah added that as a Grab Driver, he is entitled to an exclusive rewards programme - GrabAllStars. Benefits include 3% savings on PETRONAS fuel with the special Grab Mesra Card, up to 30% savings on car maintenance, and special deals on online retail and F&B, which help to bring up his nett earnings each month.
They may sound little but these benefits actually help Attillah save up to RM300 every month! GrabAllStars help Grab drivers cut back on their daily operations costs so that they get to take home more profits from the job to use on other necessities.
Today, Attillah is one of the most successful Grab drivers in Malaysia, and is even a mentor to new drivers.
"I don't want to give others the wrong impression. It's tough. You get the occasional rude passenger and you can feel a little demotivated. But when you see the earnings at the end of the day, and that you can actually help the newbies, you feel happy. It's not an easy life, but it sure is rewarding. Plus, now I can see my family everyday because of the flexible work schedule!" said Attillah.
You go, Attillah! Here's a thumbs up from Chuck Norris for you.
Click here to sign up as a Grab driver today
Know someone who would be an awesome Grab driver like Attillah? Refer your friend here and enjoy RM50 worth of promo codes!
If You Can't Get A Car, Grab Will Give You An RM8 Discount On Your Next Ride
Posted: 12 Jun 2017 07:48 AM PDT
Driving in Malaysia always comes with two highly annoying problems: insane traffic jams and the struggle of looking for parking.
But when you opt for using a ride hailing app instead, you sometimes end up not being able to get a ride
It's beyond frustrating to get responses like "sorry, we couldn't find you a driver" or "sorry, all our drivers are busy at the moment", especially if you're in a rush to get somewhere.
Grab wants to reassure users that they will never face this issue thanks to Grab's 100% ride guarantee
With their wide network and superior driver supply, Grab promises that you don't have to worry about not getting a ride. Every time you request for one, you are guaranteed to get a driver.
If by any chance you do happen to fail in getting a ride, you'll get RM8 off your next Grab. 
This offer is only applicable if you didn't get a ride at one of the following selected areas:
Klang Valley: Bangsar, Mid Valley, KL Sentral, Mont Kiara, Sri Hartamas, Publika, Bandar Utama, TTDI, Damansara Uptown, Cheras, & Sunway
Melaka: Melaka Raya, Kota Laksamana, Jalan Bendahara, & Melaka Sentral
Penang: Georgetown & Gurney Drive area
Johor: KSL City, Taman Century, Taman Pelangi, Bandar Baru Uda & Larkin
Kota Kinabalu: KK Town & One Borneo
Terms and conditions apply.
In addition, Grab has also released a new promo code that gives users RM8 off 8 rides
Promo code: SureGrab
Promo period: 8 June 2016 - 12 June 2016
Promo mechanics: RM8 off 8 Grab rides
This promo is not valid from 6am to 9am and from 6pm to 9pm. Terms and conditions apply.
With Grab's confidence in their guarantee and the fact that said guarantee has now been expanded to more locations, there's no better time to use the app
Just book a Grab for a convenient and cost-effective way of getting to where you need to go.
Find out more about Grab's guarantee here.
Raya Dah Dekat? Ini 6 Perkara Yang Korang Kena 'Settle' Sebelum Nak Pulang Beraya
Posted: 12 Jun 2017 07:20 AM PDT
Ohooi! Tak lama lagi nak raya! Adik beradik di kampung dah mula mengampu untuk dapatkan baju raya baru. Uih.. Nak yang branded je. Boleh mengalami kegawatan ekonomi macam ni. Ha.. Jangan serabut-serabut. Apakata kita buat dulu checklist supaya dapat mengelakkan kita terlupa ataupun tertinggal perkara-perkara penting yang perlu dilaksanakan sebelum nak menyambut hari lebaran bersama keluarga tercinta ni.
1) Dah settle ke perkara wajib dan sunat tu?? Ha… Jangan buat tak tahu!
Jangan ingat nak raya je! Masa bulan Ramadhan ni lah masa nak mengumpul pahala ya cik kak dan cik abang semua! Lepas tu, perkara-perkara yang lagha tu kurang-kurangkanlah. Jangan jadi bocor pahala tu! Jika mampu, tunaikanlah ibadah terawih hari-hari daripada dok tengok drama Melayu yang ntah apa-apa tu. Balik-balik cerita sama je pun! Ha.. Lepas tu, banyakkan bersedekah dan jangan lupa pula untuk tunaikan zakat fitrah!
2) Kira budget untuk baju raya, kuih raya, rambut raya, duit raya… semualah yang untuk raya!
Memang boleh bikin pening kepala bila terkenangkan 'permintaan' keluarga di kampung. Nak semua serba baru. Nasib tak minta rumah baru je. Inilah pentingnya checklist dan budgeting. Kalau tak, lepas raya memang boleh tinggal syiling je! Jadi, kebiasaannya kaum wanita yang akan selesaikan pekara ni dulu untuk persiapan raya. Yalah, kalau lambat kang takda pulak saiz baju dan warna yang berkenan di hati. Maklumlah, kalau boleh nak satu keluarga pakai warna dan corak yang sama. Baru lah meriah! Bab kuih raya pulak, buat yang rajin, bolehlah buat sendiri. Buat mereka yang selalu sibuk, kebiasaannya mesti 'tunjuk-tunjuk' kat kedai je. Tapi, make sure rasanya sedap macam homemade tau. Barulah tetamu yang datang beraya nanti akan impress!
3) Elak bersedih di hari raya kerana kena buat kerja ofis…
Sakitnya hati kalau time tengah makan ketupat, tiba-tiba bos whatsapp minta buat kerja. Boleh tercekik ooo! Tapi, salahnya korang jugak sebab tak setelkan betul-betul kerja sebelum nak bercuti. Jangan ada yang tangguh-tangguh nak buat lepas raya la, apa la sebabnya nanti anda pasti kelam kabut dan hati tak senang nak enjoy raya. Bila dah 'settle' semua, baru boleh raya sakan! Tengok macam mamat dalam gambar atas ni, komited sangat buat kerja… (kononnya)
4) Kereta, rumah, bil api, bil air dan sewaktu dengannya tu semua dah bayar?
Raya tu raya jugak! Tapi jangan over berbelanja beli baju raya, kuih raya, perabot raya dan sebagainya sampai lupa nak bayar komitmen bulanan seperti kereta, rumah dan barang-barang dapur. Silap haribulan, tengah busy beraya, ada pulak orang bank datang nak tarik kereta. hiks! Oh ya.. Lagi satu kalau ada berhutang dengan member ke family ke, eloklah bayar! Jangan suka sangat kumpul hutang. Ini semua penting supaya korang tak garu kepala bila lepas raya nanti.
5) Kereta tu dah servis ke belum?
Uih.. ini sangat-sangat penting okay! Pastikan kereta korang dah diservis dengan 'tip top', baru boleh balik kampung! Cek minyak, cek brake, cek tayar dan semua yang berkenaan untuk mengelakkan perkara yang tidak diingini berlaku. Lepas tu, jangan pula nak bawak kereta macam berlumba di atas highway tu. Biar lambat, asal selamat! Enjoy je moment nak balik kampung sambil nyanyi lagu raya.
6) Dah semak ke saman-saman tertunggak? Zakat dah bayar ke? Hewhew…
Ha.. Terkedu? Terkesima? Relax-relax. Bulan puasa ni. Jangan stress okay. Yang korang pun kenapa dok tangguh-tangguh bayar saman tu. Kan terus terlupa dah. Macamana pulak dengan roadtax? Dah settle ke? Nak jalan jauh balik kampung ni kenalah prihatin dengan perkara-perkara sebegini. Silap haribulan, kena tahan roadblock nanti. Kan dah spoil je mood raya. 
Boleh bayar zakat jugak tau di MyEG! 
Mudah dan ringkas! Semua boleh 'settle' semasa bulan Ramadhan ni tau! Untuk pengetahuan anda, MyEG menyediakan servis terbaik untuk memudahkan anda membuat urusan pembayaran kepada pelbagai perkhidmatan. Paling best, bila korang boleh jelaskan pembayaran zakat secara online tau di MyEG! Klik sana, klik sini, terus settle! Barulah rasa lega hati bila kewajipan sebagai umat Islam dah diselesaikan.
Eh, sebelum tu, jom kita tengok video  bertajuk Gitar Buruk ni. Mesejnya memang deep okay! Mesti korang terkenang adik beradik korang. Ha..  Nanti raya pertama, jangan lupa memohon ampun sesama keluarga, kita kasi 'settle' segala masalah! Terbaik!
Jika anda nak maklumat yang lebih terperinci, anda boleh layari www.myeg.com.my
Malaysian Mums Share: 3 Things On My Mind Before I Went To Bed Last Night
Posted: 11 Jun 2017 08:10 PM PDT
Moment Of Truth: What Do Malaysian Mums Really Think About Before They Go To Bed? Unsurprisingly, 90% is about their kids. :')
A mother's job is never complete. She plays so many different roles that it truly blows our minds to think about just how much she does in one day. There are chores around the house, work responsibilities, and most important of all, taking care of you. Sometimes, she even manages to squeeze in some me-time to do something she loves. The days are long, but mums take things in stride, and are already planning ahead. It's no wonder that her mind is never at rest, even right before she goes to sleep. But what exactly do our mothers think about?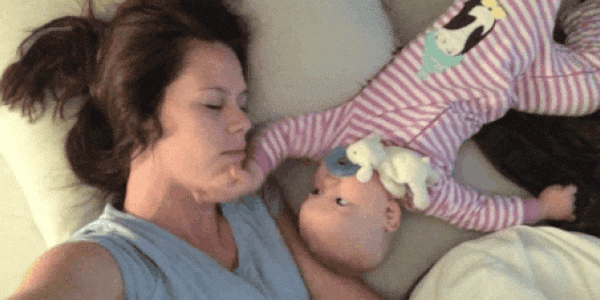 We got curious and asked some Malaysian mums to tell us the last 3 things they thought about before bed last night.
Note: The mums sent us their bedtime thoughts and we wrote them down on their behalf. Some of the personal details have been changed for privacy.
"1. What should I make for breakfast tmrw?
2. Need to print materials for the AGM.
3. Look up ballet classes for Jasmine."

- Sheela Anthony, 35, Finance executive
"1. I need to do the laundry.
2. I need to wash the milk bottles.
3. I need to shower.
(But I end up doing none of it. :P)"

- Cecilia Wong, 34, Head of marketing
"1. I <3 putting the kids to bed :)
2. Don't need to cook lunch tomorrow! Can wake up @ 6.30am!
3. Gotta get the songs ready for the concert!"

- Adrene Wong, 34, Preschool and music teacher
"1. What to pack for Aisha's bekal tomorrow?
2. Are there any bills that need to be paid?
3. Where to go for my next holiday?"

- Farah Lau, 42, Civil servant
"1. Did the baby poop today? (OMG SHE DID'T! :/)
2. Gotta finish that report before 10am. x__x
3. The kids had rice today, so gonna cook noodles for dinner. <3 <3 <3"

 - Laila Zain, 30, Lead content specialist
"1. Finish up the Hong Kong trip blog post.
2. Reschedule gym session (clashing with PIBG meeting @ Adam's school).
3. Check camera battery for the shoot tomorrow."

- Alice Tan, 30, Freelance photographer
"1. What to pre-cook before work trip on Friday?
2. How's the progress of the project?
3. When's registration period for the school?"

- Catherine Lim, 53, Paralegal
"1. What day is it tomorrow?!
2. That assignment to submit.
3. Wait, are the bags & water bottles packed for tomorrow?"

- Marion Yeoh, 36, School principal and Master's student
"1. How many hours do I get to sleep tonight? Baby still wakes up every 2 hours.
2. What to cook for baby tomorrow? Today she didn't like her food even though yesterday she finished the whole bowl!
3. House so messy. Have to clean. It's never clean enough.

- Michelle Soh, 29, Head of social headlines
"Tomorrow I must:
1. Buy ingredients for the birthday cake order.
2. Make sure I'm home by 3pm to interview new nanny candidate.
3. Call dentist to make appointment for Divya."

- Priya Raj, 28, Entrepreneur
"1. Am I not good enough?
2. How to ensure that I eat less so I can lose the excess calories intake today?
3. Nanny not around, better stay at home more to take care of Jared (my son)!"

- Castell Wong, 36, Group sales manager
Mums, what were the last 3 things you thought about before you went to bed last night? Let us know in the comments section below. :)
Mothers truly are the best! Here's to our amazing and inspiring mums who selflessly give their all, everyday. <3
BRAND'S understands that mothers need to feed their mind and body to make sure that they have all the energy they need to get through the day
Based on scientific evidence and clinical studies, BRAND'S Essence of Chicken helps in feeling more energetic, reducing tiredness, and having better concentration with quicker response time.
Top 3 Benda Paling WIN Untuk Korang Kalau Ada Pelan Postpaid U Mobile Yang Unlimited Ini
Posted: 11 Jun 2017 07:24 PM PDT
Psst.. Nak Tahu Apa Yang Korang Akan Dapat Dengan Pelan Pascabayar Unlimited dari U Mobile Kali Ni? Macam-Macam Beb!
Untuk kaki media sosial yang hari-hari memang tak sah kalau tak mengadap telefon untuk scroll Facebook, Twitter, Instagram, stream YouTube, Spotify, JOOX dan sebagainya tu mesti uols perlukan data yang banyak, betul tak? Kalau boleh bayar sekali je untuk data tanpa had. Biasalah, jimat sikit untuk student atau yang baru mula bekerja tu, ye dok? Kalau dengar je perkataan 'unlimited' korang mesti suka kan? Sebab kita tahu yang unlimited ni memang takkan pernah habis even korang dah scroll benda sama selama beberapa jam!
Peh best hidup macam ni. Hehehe. So, admin nak memperkenalkan kawan 'unlimited' korang yang terbaru. Sangat memuaskan hati!
1. Dapat scroll Facebook, Twitter, Instagram dan YouTube pada bila-bila masa. YAY!
2. Boleh on-call dengan kawan, boyfriend, girlfriend dan family. TANPA HAD ke semua rangkaian!
3. Tak perlu takut data habis, sebab kawan 'unlimited' korang ni memang AWESOME!
Masa untuk buat pilihan yang bijak dengan rakan 'unlimited' yang terbaik ni!
Bila nak pilih telco mana yang korang patut guna memang something yang betul-betul kena fikir. Tak nak lah nanti bayar tinggi-tinggi lepas tu data limited! Baru scroll Facebook sikit dah hit limit atau data yang banyak hanya boleh digunakan pada hujung minggu. Errgh.. Menyampah kan bila kena macam tu?
Data limited dengan Si Biru & Si Hijau. Aiyoyo..
Seperti yang korangtahu, U Mobile adalah rangkaian internet paling WIN di abad ni. Banyak kelebihan yang korang boleh dapatkan bila menukar kepada pelan pascabayar Unlimited HERO P78 dari U Mobile ni. Memang puas hati.
Apa kelebihan U Mobile berbanding dengan Si Biru, Si Kuning & Si Hijau ni? Haa Pelan Pascabayar Unlimited HERO P78 ini menawarkan harga bulanan pada RM 78 sahaja! Dengan data pantas tanpa had korang boleh guna sepuas-puasnya, panggilan kesemua rangkaian tanpa had dan 5GB data roaming percuma untuk 12 destinasi. Pergh apa lagi korang nak?
Bukan setakat tu je, pelan Pascabayar Unlimited HERO P78 ni bagi korang kongsi data dengan kawan2 sebanyak 10GB melalui mobile hotspot. Best tu…Si Biru hanya menawarkan RM80 10GB + 10 GB untuk hujung minggu. Si Hijau pula RM98 10 GB + 10GB untuk hujung minggu dan LTE, Si Kuning pulak hanya menawarkan 5GB data roaming untuk 8 destinasi. Mana cukup beb!
Jom bertukar ke Pelan Pascabayar Unlimited HERO P78 dari U Mobile ni untuk mendapatkan lebih KELAINAN!
Dengan rakan 'unlimited' yang terbaru ni, korang tak perlu risau atau ambik tahu tentang berapa GB korang perlu untuk stream YouTube dan sebagainya. Guna je sebanyak yang korang nak. Selain tu, korang juga boleh gunakan pada bila-bila masa (tiada waktu tertentu yg ditetapkan).
HI-SPEED data boleh digunakan dimana jua tanpa takut akan habis quota bila dah stream YouTube terlalu lama. Yang paling penting, tak perlu nak check quota yang tinggal setiap satu jam sebab takut data habis lepas tu kena extra charge. Yay!
Kini anda boleh mengatasi internet yang limited dengan bertukar kepada Pelan Pascabayar Unlimited HERO P78 ni. Yayyy! Boleh bukak iflix, Netflix atau dengar lagu dengan YouTube, Spotify dan JOOX TANPA HAD. Fun kan?! Kalau macam ni hari-hari admin tengok series! Hehehe..
Hanya dengan RM 78! Korang akan dapat semua ni bila korang dah sign up. Fuh bestnyaaa!
Panggilan ke semua rangkaian – Tiada had. tiada sekatan, boleh digunakan pada bila-bila masa, tidak kira hujung minggu atau tidak. Yay! Bestnya..
Tak perlu takut kehabisan quota.
Tak perlu cari tempat yang ada WiFi dah, guna data sendiri je
Kongsi data anda dengan keluarga dan rakan-rakan sehingga 10GB uolss! Percuma je. Hehe
Untuk yang kaki travel luar negara, pelan ni bagi 5GB data percuma melalui Roam-Onz™ untuk korang guna ke 12 destinasi. Percuma jugak beb!
Sangat berbaloi untuk bertukar kepada Pelan Pascabayar Unlimited HERO P78 dari U Mobile ni. Macam-macam korang boleh dapat. Apa tunggu lagi?! Hehe..Untuk maklumat lanjut, korang boleh ke laman web U Mobile sendiri. Klik link ini!
Your Kids Will Love The School Holiday Programme At Berjaya Times Square Theme Park
Posted: 03 Jun 2017 08:53 PM PDT
Berjaya Times Square Theme Park is organising a series of upcycle edutainment activities this coming school holiday. From 27 May to 11 June 2017, Berjaya Times Square Theme Park will be hosting the Be Amazed, Don't Waste upcycling programme.
1. Explore the A-maze-ing Discovery Waste Maze with your kids
Maneuver through the The Waste Maze with your kids and experiment with the different interactive installations to learn more about the types of problems waste create. There are four different interactive installations :
The Jellyfish installation features colourful plastic bags of all shapes and sizes to raise awareness about plastic pollution in our oceans which can endanger marine life.
In the Oil Spillage Room, the formation of diesel drums represent the oil spill problem the world is facing.
Be careful so you don't get tangled up in the Fish Nets String Maze. This is what animals in the ocean have to endure everyday with the increasing amount of abandoned nets.
Have fun with the Singing Tin Cans and find out what cool things you can do with recycled tins.
2. Get healthy with the A-maze-ing Dash Bike Challenge
Compete with your friend to see who can reach the finish point first. The person who managed to finish the race in the shortest time at the end of the upcycling programme will receive a celebration package* at the Berjaya Times Square Theme Park. The challenge will take place daily from 12 - 2 pm, and 4 - 6 pm.
*Terms and Conditions apply
3. Join the weekend DIY workshops and learn to create cool things from recyclable materials
There are four workshops that you and your kids can choose from if you visit on 3, 4, 10, and 11 June, at 3pm :
Shoe Planter teaches you how to recycle unused shoes into cute planters.
Make your own musical instrument at the Upcycled Percussion and Drum Circle session.
Unleash your creativity at the Strings Art workshop.
Learn how to make multipurpose hooks, upcycled from discarded utensils, that can be used as racks at home.
Berjaya Times Square is also giving out 50 adult entrance tickets right now
All you need to do is :
Share this article on your Facebook timeline.
Show your shared article at the cashier counter in Berjaya Times Square Theme Park on Level 5 to redeem your free ticket.
Provide the cashier with your name, Facebook username, NRIC number, phone number, and email address during redemption.
Terms and Conditions apply
This promotion is only applicable for Facebook users, starts from 22 May till 9 June 2017.
Redemption period is valid from 29 May till 11 June 2017, from Monday to Friday only.
Facebook user must present the shared post to cashier at ticketing counter level 5 for redemption.
The redeemer cannot participate repeatedly in this promotion.
Tickets will be given on a first-come, first-served basis while stocks last.
Not valid with other on-going promotions/discounts and not exchangeable for cash.
Children (below 12 years old) must be accompanied by a paid adult (above 18 years old) in the Theme Park at all times.
The Management of Berjaya Times Square Theme Park reserve the rights to reject or refuse any vouchers which was deem to have been duplicated or tampered or which otherwise is suspected to be the subject of fraud.
Berjaya Times Square Theme Park operation hours are from 12pm-10pm on Monday – Friday, and 11am-10pm on Saturdays, Sundays & Public Holidays.
Ini Dia Cara Lebih Mudah Dan Jimat Untuk Beli Kereta, Pakai Satu 'Website' Je!
Posted: 03 Jun 2017 08:31 PM PDT
Nak beli kereta tapi tak tahu nak start kat mana? Artikel ini memang tepat untuk anda.
Ramai orang yang mengidam untuk memiliki sebuah kereta sebaik sahaja mendapat pekerjaan. Tapi masih ramai yang tertanya-tanya :
"Macam mana dan di mana nak mula untuk beli kereta?" 
"Kereta jenis mana yang layak untuk saya beli mengikut bajet?"
"Macam mana nak kira bayaran bulanan, insurans, cukai jalan, dan lain-lain? Help!"
Kalau pergi ke showroom dan test-drive, nanti salesman akan hubungi di telefon tak henti-henti, nak minta tolong mak ayah atau kawan-kawan segan pula, dah baca macam-macam artikel di internet pun tetap rasa tak confident nak beli.
Tapi jangan risau. Sesiapa yang nak beli kereta, guna saja MyMotor Progressive Financing atau MyMotor SmartLease yang sememangnya lain dari yang lain.
Kenapa ia lain dari yang lain?
Dengan MyMotor Progressive Financing, anda boleh mendapatkan ansuran bulanan yang jauh lebih rendah berbanding dengan pinjaman sewa beli biasa! Bukan itu saja, skim ini juga disediakan supaya selaras dengan perkembangan kerjaya anda. 
Contohnya seperti dalam gambar di bawah :
Bayaran bulanan adalah lebih rendah pada tahun pertama, kedua, dan ketiga.
Untuk 3 tahun pertama, bayaran ansuran bulanan kereta anda sememangnya lebih rendah berbanding sewaan biasa. Bayangkan betapa banyak duit yang anda boleh jimat selama tiga tahun. Seronok kan?
Cara nak apply pun mudah, tak payah keluar rumah pun. Ikut sahaja 3 langkah di bawah :
Layari laman web MyMotor di sini.
Isi butiran pada borang yang tertera di bahagian bawah.
Hantar.
Selesai!
Pihak MyMotor akan hubungi anda kemudian untuk mengaturkan pembelian kereta sehingga selesai.
Memang mudah!
Selain itu, MyMotor turut menyediakan fleksibiliti melalui pemilikan atau pajakan dengan SmartLease
Kenapa sewa dengan MyMotor SmartLease?
Terdapat pelbagai pilihan kereta yang sesuai dengan bajet anda.
MyMotor akan membantu anda sekiranya berlaku apa-apa kerosakan atau tuntutan insurans.
Anda tidak perlu bimbang tentang nilai kereta anda - setelah pajakan berakhir, anda perlu pulangkan sahaja kereta kepada MyMotor.
Dapatkan kereta baru setiap 3 atau 5 tahun, segalanya termasuk cukai jalan, insurans dan penyelenggaraan.
MyMotor juga mengendalikan urusan jual/beli kereta yang biasa. Nak tahu lebih lanjut, lihat video di bawah :
HTC Is Bringing The Most Squeezable Phone Ever Made To Malaysia
Posted: 03 Jun 2017 08:09 PM PDT
The HTC U11 is a smartphone that allows you to interact with it with just a squeeze. This is made possible with the HTC Edge Sense, which is activated when you apply gentle pressure on the sensors hidden under the glass edge at the sides of the phone. So, what does squeezing the U11 do?
It opens your frequently used apps



Your Facebook, Instagram, WhatsApp, and Camera are just a squeeze away! The HTC Edge Sense allows you to customise your squeeze gesture. This means that you can activate all your favourite apps with different types of 'squeezes', eg. a short squeeze to launch your Camera; or a squeeze and hold for your Facebook app.


It types your WhatsApp texts for you



Yes, you can get the U11 to type your texts for you. A squeeze can activate the phone's Voice To Text function, so you can still text even when your hands are full.


Squeeze to snap a photo...



You used to have to press one of the side buttons, or tap the screen to take a good selfie. All you need to do right now is simply pose, flex those hand muscles, and squeeze.


... anytime, anywhere



Literally anytime, anywhere. Even under water as it's water resistant! Perfect for every kind of outing. This works because the HTC Edge Sense is activated by actual pressure. So as long as you can still squeeze the device underwater, or even with gloves on, the U11 will register your squeeze gesture and snap. This is especially useful when you're doing something that gets your adrenaline pumping.



Because ain't nobody got time to fumble for that button when they're jumping off cliffs or planes. Just squeeze!
The U11's camera is also rated as one of the best smartphone cameras in the market
It uses UltraSpeed AutoFocus, the same full sensor auto-focus technology as those used in top-line DSLR cameras. Coupled with the Auto HDR Boost which enhances the colours and textures in your photos, you can take super clear photos with the U11 just like a professional photographer. 
There's also the UltraPixel light sensitivity feature that helps you take great concert photos without the need to max the brightness level before you post it.
Taking videos with the U11 is great too with their awesome microphone
The U11's microphone is omni-directional, which means it can pick up sound from all sides, as compared to other mics which require you to speak directly to it in order to be heard.
The best feature is the Acoustic Zoom that not only allows you to zoom in on someone or something for the video, but to amplify their sounds as well.
The speakers are so powerful, you gotta hear it to believe it
Music lovers will be happy to know that HTC has improved that speaker design for the U11. Now your favourite songs sound richer, clearer...
... and more powerful.
In terms of accessories, the USonic earbuds are every music lover's dream come true
The USonic earbuds are great because it cancels out noises around you automatically, thanks to the Active Noise Cancellation feature. It does this by actively monitoring the noise level around you, then automatically adjusts your music's volume accordingly. This way, you can really enjoy your Spotify playlist without distractions.
The HTC U11 is available in three colours in Malaysia
You can get the smartphone in Brilliant Black, Sapphire Blue, and Amazing Silver at RM3,099. This is for the 6GB RAM / 128GB Storage variant of the HTC U11.
6 Sebab Kenapa Musim Raya Waktu Paling Best Dan Terbaik Untuk 'Shopping' Sakan
Posted: 03 Jun 2017 06:45 PM PDT
Dah nama pun Hari Raya, mestilah kena shopping!
Sudah menjadi lumrah rakyat Malaysia untuk berbelanja sakan menjelang Hari Raya. Daripada baju, ke perabot, sehinggalah ke kereta, kalau boleh semua benda nak tukar baru. Barulah Raya! Malah, musim perayaan juga merupakan masa yang terbaik untuk shopping atau membeli-belah. Kenapa? Kami senaraikan 6 sebab di bawah :
Apa kata untuk Raya kali ni, beli kereta pulak? ;)
[QUIZ] Answer These 8 Questions And We'll Reveal Your Movie Personality
Posted: 03 Jun 2017 06:07 PM PDT
We're all probably pretty familiar with the different kinds of movie-goers here in Malaysia but the question is ... which one are YOU?
So what'd you get? Share your results on Facebook and stand a chance to win free movie passes for the ultimate movie experience in TGV Cinemas!
With so many exciting movie releases to look forward to in the coming months, it's time to take your movie day out to a whole other level at TGV Cinemas
You are subscribed to email updates from Alkhudhri.com.
To stop receiving these emails, you may unsubscribe now.
Email delivery powered by Google
Google Inc., 1600 Amphitheatre Parkway, Mountain View, CA 94043, United States